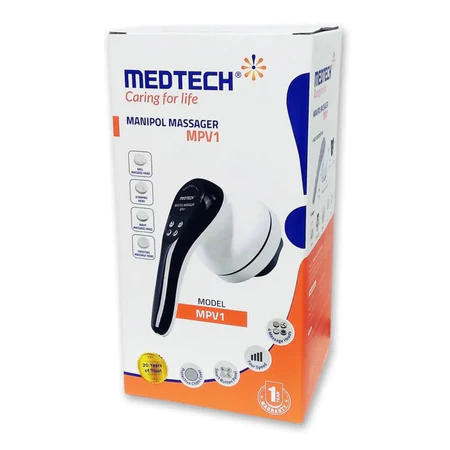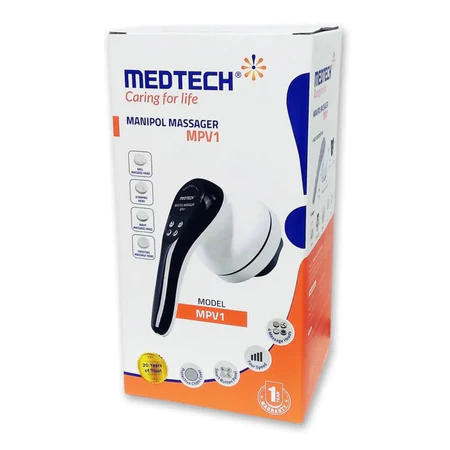 Medtech Full Body Massager Machine MPV1
---
₹2299
Six Massage Modes
Four Different Massager Heads
Four Speed levels
Smart button panel
Protective Soft Fabric Cover
Medtech Manipol Massager MPV 1
(1 Orders already Shipped till now)
---
---
Description
The device has a lightweight and ergonomic design that makes it easy to use for extended periods. It also features an adjustable speed setting, allowing users to adjust the intensity of the massage according to their preferences. The Medtech Full Body Massager Machine MPV1 is also designed to promote blood circulation, reduce muscle soreness and stiffness, and relieve stress.
4 Detachable Heads for Customized Massage:

The massager comes with 4 different massage heads for you to enjoy different types of massage experiences. The 4 massage heads are flathead, wavy head, ball head and dead skin removal head for delivering various massage effects.


Powerful Strength:

The uniquely designed massager operates at a high RPM rotation speed to deliver the best sensory experience. The smart button control panel allows the users to control the speed of the rotation between 4 levels for adjusting the massager to their perfect level of comfort.


Targeted Massage for Instant Relief:

The massager running at a high RPM increases blood circulation in the massaged area to relieve muscle tension quickly. The long handle makes it easy to maneuver the massager over tough-to-reach spots in just one hand.


Easy to Use:

The massager comes with a smart button panel, which is super convenient and helps users get the perfect massage they desire.


Multiple Health Benefits:

Regular use of this massager can relieve anxiety, depression, digestive disorders, fibromyalgia, headaches, insomnia related to stress, myofascial pain syndrome, soft tissue strains or injuries and sports injuries, etc.


Protective Fabric Cover:

The massager also comes with a protective fabric cover which helps you prevent any hair damage during the massage. You can simply attach the soft fabric over your massage head and remove it easily after use for washing.


Portable and Compact:

The high-quality massager from Medtech weighs less than 1 kg, making it convenient to carry along with you during traveling or to your office, gym, etc.
Buy your Medtech Full Body Massager and enjoy the perfect relaxation experience.
The massager has multiple uses
A full body massager
A massager machine for pain relief
Back neck arms legs shoulder foot massage
---
Related Searches: Body Massager Machine, Body Massager Price, Full Body Massager, Pain Relief Massager
Customer Reviews
Please Login To submit a review