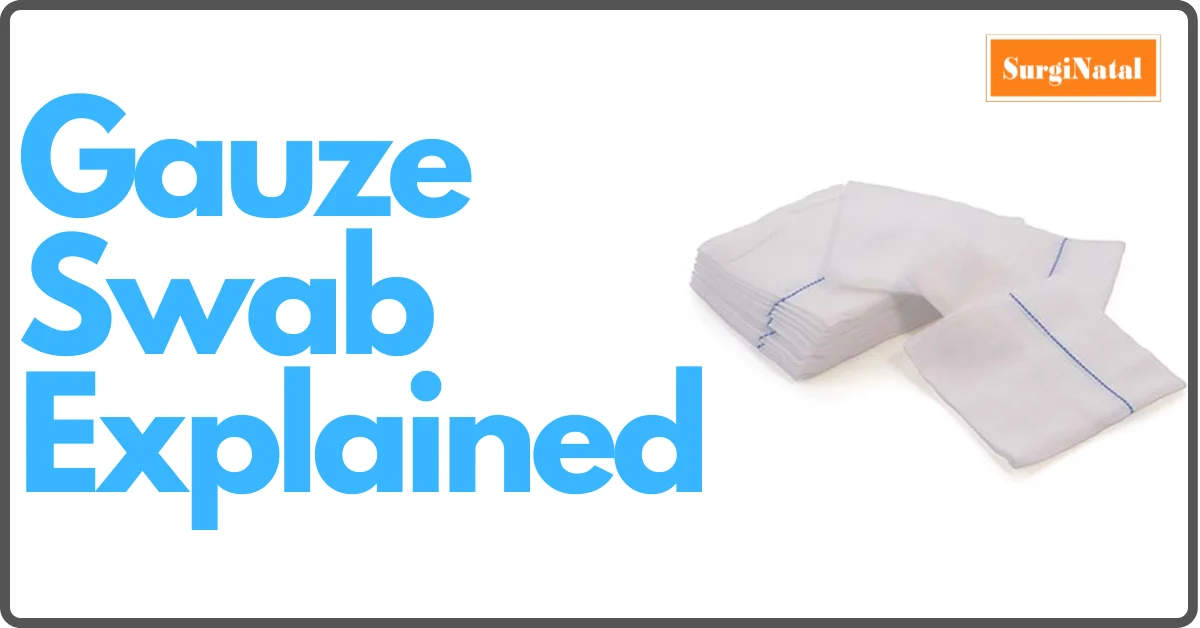 A Gauze Swab is a cotton swab with a gauze pad attached. It is used for cleaning and applying medication to wounds.
The use of gauze swabs in the medical field dates back to the 1800s when they were first introduced by Dr. George Henry Gray.
A Gauze Swab is typically made of cotton, gauze, or other absorbent material and can be sterilized using ethylene oxide gas or by boiling in water. These swabs are usually used with ointments, lotions, and other medications to clean wounds and prevent infection.
Since Gauze Swabs are typically made from cotton or synthetic materials that have been cut into long strips, these Swabs can be folded into a pad shape and then attached to the end of a stick-like object.
A gauze pad is a pad of cotton or other material that has been dampened and folded into a swab. It can then be attached to the end of a stick-like object which is typically made from wood or plastic.
The gauze pads are moistened with alcohol, oil, lotion, or water solution and then applied to wounds for cleaning and cooling.
Use Cases of Gauze Swab
Gauze swabs can use gauze pads in a variety of ways. They are typically used to clean wounds or hold the gauze in place, but they can also be placed on the skin during a procedure or as a bandage.
The gauze swab is made from cotton or synthetic material, which can be impregnated with medicinal solutions. Gauze swabs are one of the most important items in an emergency first-aid kit.
The gauze swabs are used to clean and dress wounds. This includes cleaning the wound by removing any dirt or debris, as well as applying medications such as antiseptics, ointments, and antibiotic creams. Gauze swabs are often used in conjunction with other medical products such as adhesive bandages and tape to create a dressing for an injury.
Types of Gauze Swabs
There are mainly three types of Gauze Swabs
Sterile Gauze Swabs, Non-Sterile Gauze Swabs, and Paraffin Gauze.
Sterile Gauze Swabs–
Sterile Gauze Swabs are typically used in the first response to an injury. These Swabs are very common medical uses and they are usually sterilized using gamma Irradiation and Ethylene Oxide.
Sterile swabs are known for their bacterial-resistant properties, absorbent properties, and safe uses. Sterile Gauze Swabs are bleached using hydrogen peroxide with demineralized water. The cotton gauze swab ensures absorbability.
Since these kinds of swabs are made with cotton mainly, they have a great ability to absorb bodily fluids coming out of the wound. Sterile gauze swab is the basic material for treatment and first aid and should be used in each cabinet.
Non-Sterile Gauze Swabs
Non-sterile gauze swabs are also made from cotton gauze fabric. The folded edges ensure no loose ends upon application. These are ideal for cleaning a wound and stemming and absorbing blood and exudate fluids from a wound.
Paraffin Gauze
Paraffin gauze is also low-adherent means it will not stick to the wound. Paraffin gauze is coated with medical-grade paraffin which soothes and protects the wound. Changing paraffin gauze is very easy hence it is very comfortable for the patients.
Why Choose Surginatal to Buy Gauze Swab?
We have a wide range of Gauze Swab products that include; Gauze cloth, Bandages, Soft role, Cotton roll, etc.
Our products are great in quality and they are in very high demand due to their affordability. We are offering a minimum of 20 to up to 90% discounts on our products.
Surginatal is one of the fastest-growing online surgical supply stores. Since 2017 we have made a great name among our happy customers.
With more than 500 surgical products, across all surgical categories, Surginatal not only offers surgical products at way lower prices compared to the regular market prices, but we also guarantee fast delivery, product quality, and 100% customer satisfaction.
Related Posts