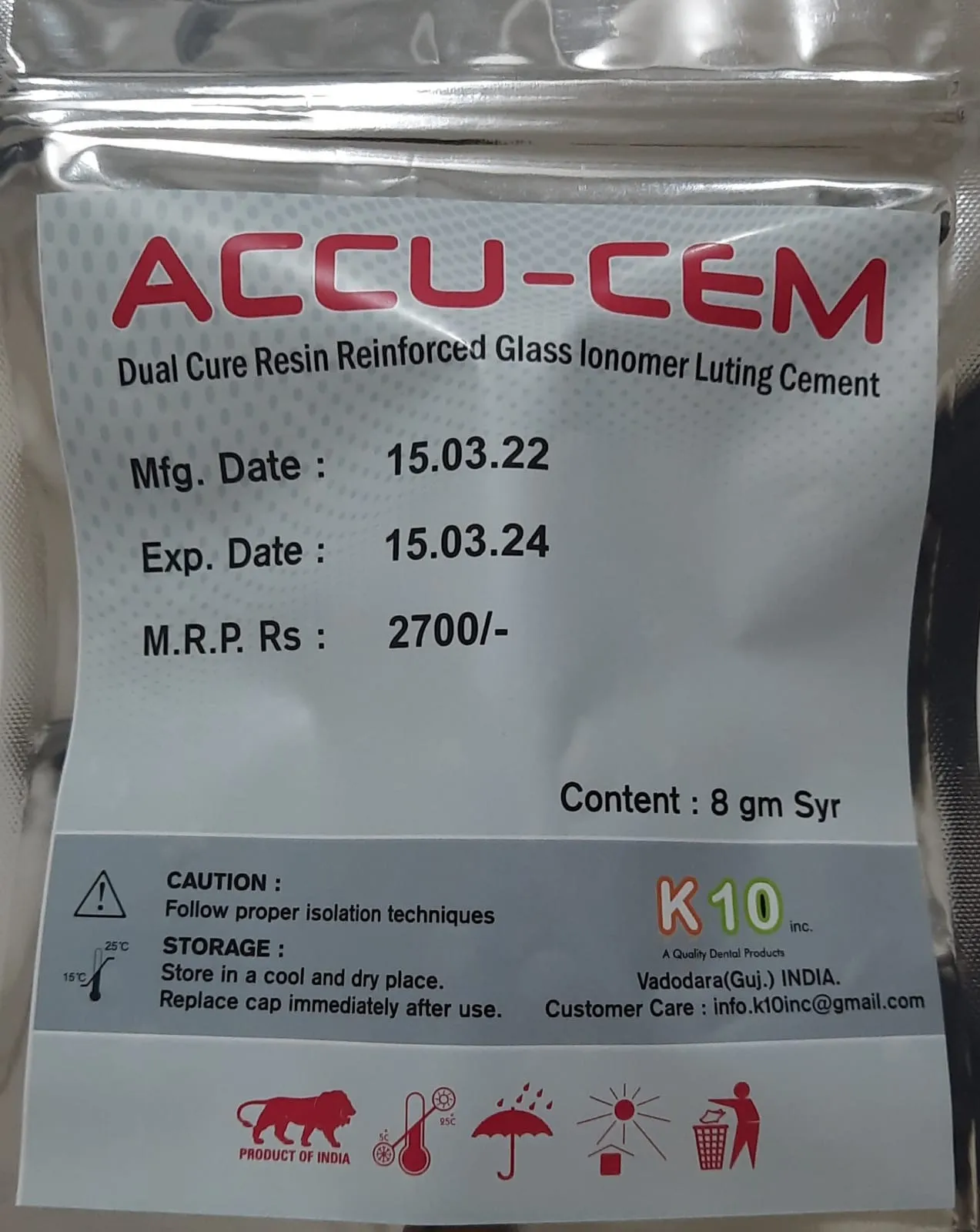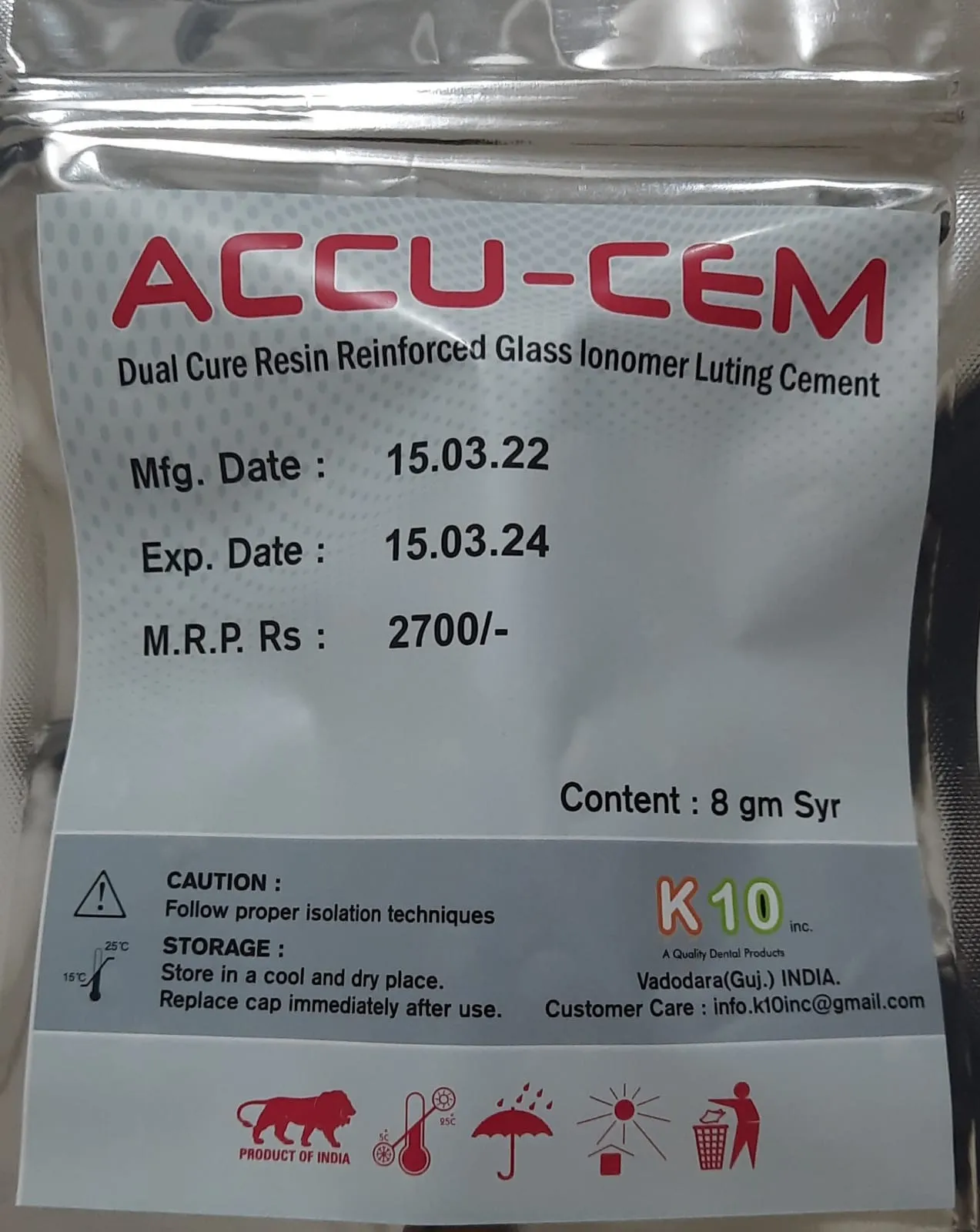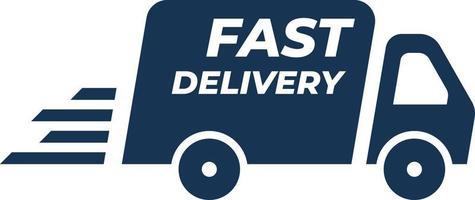 Fast Delivery Available
RMGIC Luting Cement
---
₹2700
Smaller particles

Excellent aesthetics and polishability

Higher filler loading

Significantly improved abrasion resistance

Good radiopacity
(4 Orders already Shipped till now)
---
---
Description
The RMGI luting cement comes in a paste-paste delivery system from the 'Clicker'. RelyX exhibits high bond strength and virtually no post-operative sensitivity. RMGIC luting cement had higher shear bond strength values than Traditional GIC luting cement for all the core buildup materials. RMGIC luting cements provide the most durable combination, while silver amalgam core foundation material bonded to traditional GIC luting cement provided the least durable combination in the presence of lactic acid buffer solution.
RMGIC (Resin-Modified Glass-Ionomer Cement) is a type of dental luting cement that is commonly used in restorative dentistry. It is a versatile material that combines the benefits of glass-ionomer cements and resin-based materials.
Here are some key features and uses of RMGIC luting cement:
Adhesion: RMGIC luting cement provides excellent adhesion to both tooth structure and restorative materials, such as metal alloys and ceramics. This helps in creating a strong and durable bond.

Fluoride release: RMGIC contains fluoride, which helps in preventing tooth decay and provides long-term protection to the tooth structure.

Dual-cure system: RMGIC luting cement can be cured by both light activation and chemical setting reaction. This makes it suitable for a variety of clinical situations, including areas that are difficult to access with a curing light.

Esthetics: RMGIC luting cement is available in different shades to match the natural color of the teeth. This ensures a more esthetically pleasing restoration.

Easy handling: RMGIC luting cement has good flowability and is easy to handle, making it convenient for dentists during the placement of restorations.

Cementation of indirect restorations: RMGIC luting cement is commonly used for cementing indirect restorations, such as crowns, bridges, inlays, and onlays. It provides a reliable bond between the restoration and the tooth structure.

Temporary restorations: RMGIC luting cement can also be used for temporary restorations. It offers a good seal and helps in protecting the tooth until a permanent restoration is ready.
It's important to note that specific instructions and protocols may vary depending on the brand and product used. Dentists follow the manufacturer's guidelines and recommendations for the proper application and handling of RMGIC luting cement.
---
Searches: luting cement, RMGIC Cement, RMGI Cement, gic luting cement, gc luting cement
Customer Reviews
Please Login To submit a review