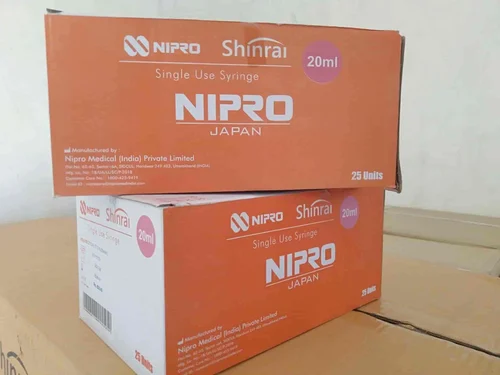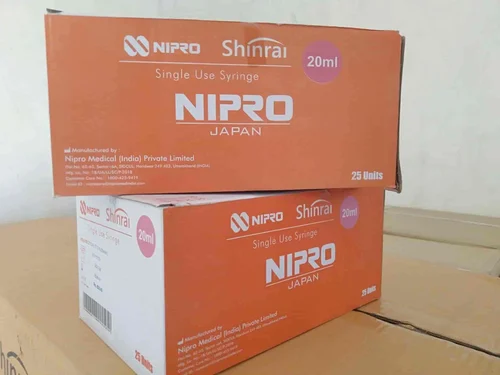 Nipro Shinrai 20ml 21G (25 Pcs)
---
₹687
Capacity: 20 ml
Usage/Application: Hospitals & Labs
Brand: Nipro
Gauge: 21 G
Sterilization: Gamma
Barrel: Polypropylene
(1 Orders already Shipped till now)
---
---
Description
The Nipro Shinrai 20ml 21G (25 Pcs) refers to a specific type of syringe manufactured by Nipro. Here are some details about the product:

Size: The syringe has a capacity of 20 milliliters (20ml), indicating the volume it can hold.

Needle Gauge: The syringe is equipped with a 21-gauge (21G) needle. The gauge refers to the thickness or diameter of the needle, with a lower gauge number indicating a thicker needle.

Quantity: The product is available in a pack of 25 syringes. This quantity may vary depending on the packaging and purchasing options.

Nipro is a reputable manufacturer of medical devices, including syringes. The Nipro Shinrai syringe series is designed to deliver accurate and reliable performance during various medical procedures.
If you are interested in purchasing the Nipro Shinrai 20ml 21G syringes or obtaining more specific information about the product, I recommend contacting a local pharmacy or medical supplier that carries Nipro products. They will be able to provide you with pricing, availability, and any additional details you may require.
---
Related Searches - (nipro syringe, nipro syringe suppliers, nipro syringe 3ml with needle, nipro syringe contact number, nipro syringe uses, nipro syringe 10ml, nipro syringe 2.5ml, nipro syringe price, nipro syringe 1ml with needle, nipro syringe 5ml price, nipro syringe use, nipro syringe 1ml, nipro syringe contact number, nipro syringe 50ml, nipro syringe suppliers, nipro syringe 3ml)
Customer Reviews
Please Login To submit a review