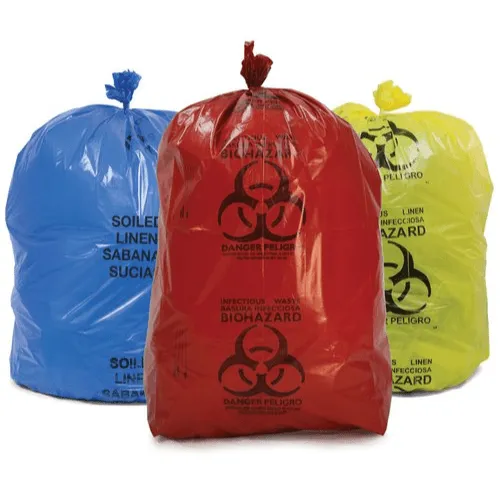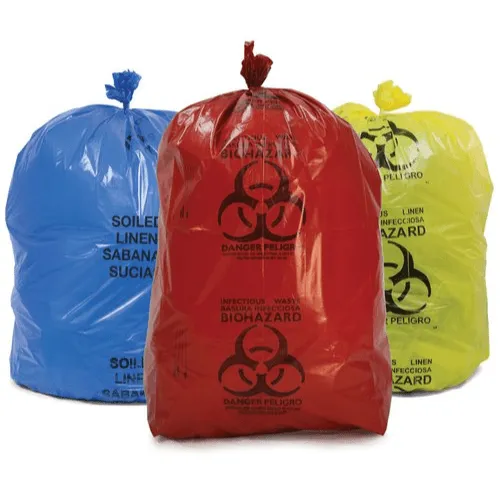 Biomedical Waste Bags - 2kg pkt - Yellow
---
List rate for 2 kg polythene pktMedical Grade Bio-waste bagAvailable in all required sizes4 different colorPack of 2 kg
(59 Orders already Shipped till now)
---
---
Description
Biomedical Waste Bags are mainly used for the safe disposal of medical waste like tissues, drugs, incineration ash, and other chemical waste.
Color Coding: Biomedical waste bags are typically color-coded for easy identification and proper segregation of waste. The most common color used for biomedical waste bags is red. The color red serves as a visual cue to indicate that the bag contains potentially infectious or hazardous waste.
Material: Biomedical waste bags are made of durable and tear-resistant materials, such as high-density polyethylene (HDPE) or low-density polyethylene (LDPE). These materials provide strength and prevent leakage or tearing during handling and transportation.
Thickness: Biomedical waste bags are available in various thicknesses, typically ranging from 1.2 to 4.0 mil (thousandths of an inch). The thickness may vary depending on the specific requirements and regulations of different regions or healthcare facilities.
Markings and Labeling: Biomedical waste bags often have markings or labels indicating the nature of the waste contained within. These markings may include biohazard symbols, warning messages, or labels specifying the type of waste, such as infectious waste, sharps waste, or chemotherapy waste.
Closure Mechanism: Biomedical waste bags usually have a secure closure mechanism to prevent spillage or exposure to the waste contents. This can include options such as ties, drawstrings, or zip-lock closures to ensure proper sealing and containment.
Capacity and Sizes: Biomedical waste bags are available in various sizes and capacities to accommodate different volumes of waste. Common sizes range from small, individual-use bags to larger bags designed for institutional or facility-wide use.
Compliance with Regulations: Biomedical waste bags are designed to meet or exceed the regulations and guidelines set forth by local, regional, or national authorities regarding the safe handling, transportation, and disposal of biomedical waste.
---
Related Searches:- biomedical waste bags uses, biomedical waste bags color, biomedical waste bags size, biomedical waste bags online, color coded bags for biomedical waste, biomedical waste management colour coded bags, colour coding of bags for segregation of biomedical waste, biomedical waste bags should be filled to the top before disposing, biomedical waste collection bags specifications, biomedical waste disposal bags, colour coding of bags for segregation of biomedical waste, colour coding of plastic bags for biomedical waste, color coded biomedical waste bags, biomedical waste management bags
Customer Reviews
Please Login To submit a review