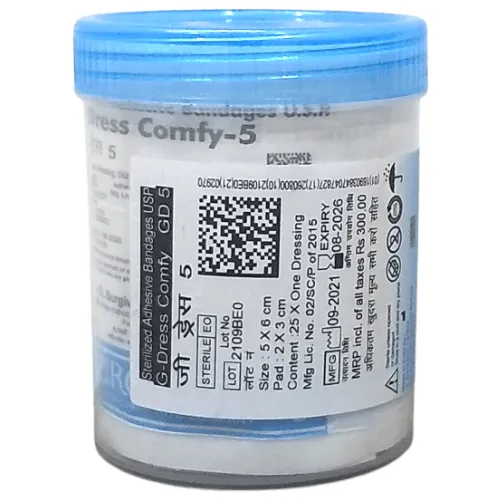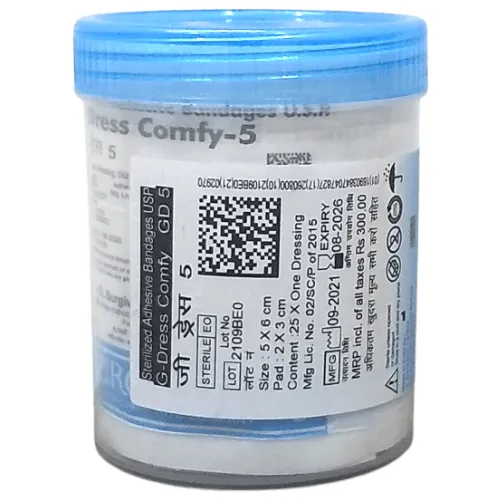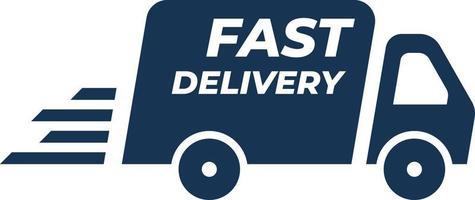 Fast Delivery Available
G-Dress Comfy 5 - 25 pcs
---
₹330
Surgiwear G-Dress Comfy 5 Bandage G-Dress is a ready-to-use wound dressing that has been sterilized and has a non-stick wound pad. G-Dress Comfy 5 is manufactured by using quality assured material and advanced techniques.
(153 Orders already Shipped till now)
---
---
Description
G-Dress Swimproof GDSP5 is a sterilized adhesive bandage that is ready-to-use wound dressing. G-Dress is made of SMS non-woven. It is lightly stretchable in both directions. The feel is soft & comfortable due to light stretch-ability.
Surgiwear G-Dress Comfy 5 Bandage
G-Dress is a ready-to-use wound dressing that has been sterilised and has a non-stick wound pad. The intermediate layer of this nonwoven fabric prevents moisture from going through. It shields the dressing from moisture. Bathing on a regular basis is not harmful to the dressing. The skin's regular breathing and the passage of water vapour are unaffected. This dressing is not stretchy. The pad will not cling to the wound as much. The adhesive is non-irritating to the skin.

Uses:
It is a sterilised adhesive bandage which is a ready to use wound dressing and keeps the wounds protected against water and moisture.

Key Specifications and Features:
The G-Dress Swimproof Bandage is made of wide apertured nonwoven material
The wound pad is covered with non-stick lining that will prevent sticking of the pad with the wound
It protects wounds from developing any bacterial infection and aids in keeping them intact
It is made from non-woven fabric that prevents any moisture to pass through it
The size of the bandage is 6x5 cm and the pad size is 3x2 cm
The feel is soft and comfortable due to its light stretchability
It is slightly stretchable in both the directions and is coated with skin-friendly acrylic adhesive
---
Related Searches - g dress comfy 5, g dress 30, g dress full form, g-dress 20, g-dress 5, g dress 30 comfy, *30 g dress 30 comfy, g-dress 30 comfy, g-dress bandage, g-dress surgiwear, g-dress 25, g-dress bandage size, g-dress 15, g-dress 10, g dress bandage size, g dress uses, G-Dress Comfy 10
Customer Reviews
Please Login To submit a review

---

---