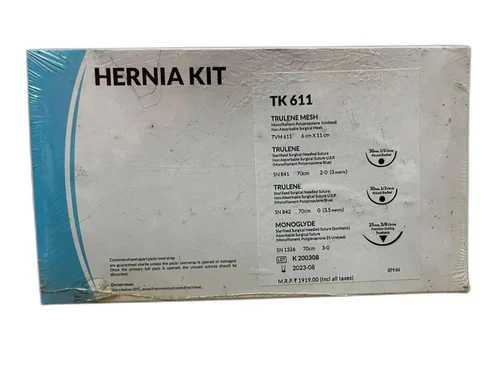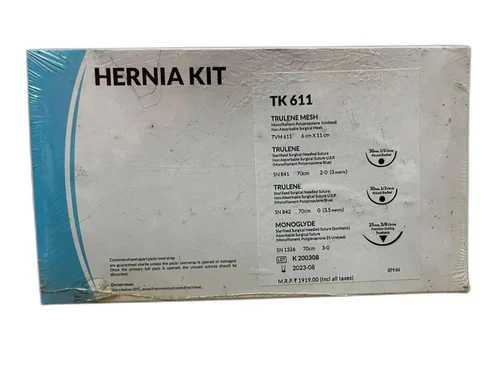 Healthium Hernia Kit TK 611N
---
₹1486
Mesh: The kit includes a polypropylene mesh, which is a synthetic material used to reinforce the hernia repair and provide additional support to the tissue.
Fixation Devices: The kit contains fixation devices, such as tacks, sutures, and needles, which are used to secure the mesh in place during the hernia repair surgery.
Disposable Instruments: The kit includes disposable instruments, such as a scalpel, scissors, and forceps, which are used during the hernia repair surgery.
Sizer: The kit also includes a sizer, which is used to accurately measure the size of the hernia defect and select the appropriate size of mesh.
(4 Orders already Shipped till now)
---
---
Description
FEATURES OF TRULENE MESH
Biologically inert
Gives strong support for indefinite periods
Excellent tensile strength and pliability
Does not harbor micro-organisms
Inert material
Least thrombogenic
Trulene mesh offers stability, superior performance and bio-compatible in nature.
APPLICATIONS
Our precision laser cutting technology ensures that there are no frayed edges. Trulene mesh has excellent multi-directional mechanical properties that help obtain the desired surgical result with maximum patient comfort.
TECHNICAL DETAILS
Monofilament polypropylene non-absorbable
Sterilized by ethylene oxide
Shelf life of 5 years
Customer Reviews
Please Login To submit a review

---